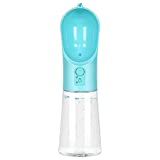 UPSKY Dog Water Bottle Portable Pet Water Bottle Leak Proof Dog Water Dispenser, Lightweight Dog Travel Water Bottle Bowl for Walking 400ml (Blue)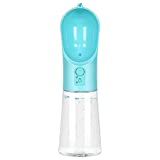 Price: $11.99 – save $8.00 (40%)!

Color: Blue
Model: 006
Brand: UPSKY



Features
[Portable & Lightweight] Portable accessories design and slim contours. Whether it's a trip or walk in front of your house, it is a good choose for you and your pets.
[One-hand operation] Single hand press water key to fill water, release to stop water. Water that cannot be drunk out can be turned back into the cup. It is easy to disassemble and clean.
[Practical Capacity] Our dog water bottle can hold 15oz freshwater, enough for outdoor walking, camping, hiking, and traveling. Your pet can enjoy pure water at any time and anywhere with our dog water bottle.
[Double Leak-Proof Design] Pet water bottle dispenser with one-key lock water and sealing rubber ring to avoid a leak. No worry about wetting your bag. Be sure your lid is fastened.
[Safe & Durable Materials] The material of pet water bottle is harmless, reliable and durable, and it is intact even if you drop it accidentally.
Used from $10.81 (2 offers)
New from $11.99 (2 offers)