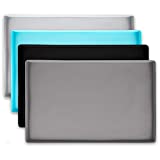 DogBuddy Dog Food Mat, Small (19×12), Large (24×16), XXL (32X24), Nonslip Dog Food Tray, Silicone Dog Placemat, Washable Dog Bowl Mat, Waterproof Feeding Mat, Dog Food Mats Floors – Large Shadow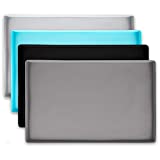 Price: $19.99 ($19.99 / Count)

Color: Shadow
Brand: DogBuddy



Features
❤️ EFFECTIVE: Super high outer lip (edge) keeps all the mess contained on the pet food mat and away from your floor. Use this cute waterproof mat for food and water under pet food bowls for dogs, water dishes, pet fountains, automatic feeders, feeding stations to protect your floors. You can even use it for your cat or other pets. We won't tell anyone!
❤️ SAFE: Silicone is a very safe material that's 100% free from nasty chemicals like BPA, PVC and Phthalate. Our food mats are certified by world leading third-party laboratories (UL). This is really the highest quality pet bowl mat on the market that will last for years to come.
❤️ CONVENIENT: Unlike other dog food mats that have textured surface, our dog mat has smooth surface, which is much easier to clean and it is better at preventing dog bowls from sliding due to stronger contact with the pet bowl. Our dog bowl mat is easy to wipe with a wet cloth or wash by hand and it is dishwasher safe. If you are traveling or just visiting friends, you can just roll it and take it with you.
❤️ SIZE: 23.6 x 15.7 x 0.6 inches. Perfect for medium and large dogs or multiple pets. | U.S. & International Patents Issued.
❤️ MONEY BACK GUARANTEE. We are 100% committed to making your and your dog's lives easier and more fun! If for some reason you are not thrilled with our product, simply return it to Amazon for a full refund. Please do not hesitate to contact us anytime of you have any questions or concerns.
New from $19.99 ($19.99 / Count) (1 offers)