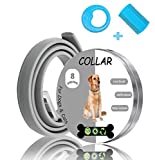 Petty Helper Flea Tick Collar for Dogs Cats-8 Months Protection-No Allergic & Waterproof & Adjustable Design-100% Natural Essential Oil-Gift flea Comb&Dog chew Toy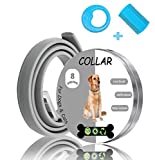 Price: $18.99

Color: Gray
Model: Petty Helper-00
Brand: Petty Helper



Features
❤ VETERINARIAN RECOMMENDED ❤ —- Veterinarians recommend that dogs and cats wear preventive collars for healthy growth . Use with flea comb for better effect.
❤ DURABLE & COMFORTABLE PROTECTION ❤ —- The collar for dogs offers 8 continuous months of protection.Avoid the hassle of monthly treatments,save more time and money.
❤ WATERPROOF DESIGN ❤ —- This pet collar allows you to walk and play outdoors in the rain or wet snow. You don't have to worry about the safety of your pet
❤ ONE SIZE FITS ALL ❤ —- Flea and Tick Collar is Easily Adjustable and Waterproof Design. BEST collar has a Length 25in (excess can be easily cut), and usage of the adjustable robust strap can simply clip on the neck of pet of any breed.
❤ CHARITY RELAY&GIVEAWAY ❤ – With every sold collar we donate $0.99 to Organizations that are engaged in saving animals. Let us to bring them hope.During the event,Giveaway flea comb + dog chew toy.
New from $18.99 (1 offers)