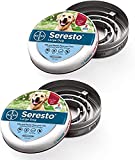 Bayer Seresto Flea and Tick Collar, Large Dog, 2Pack + Hot Spot Pets Travel Bowl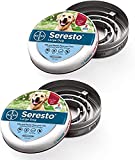 Price: $104.36

Color: n/a
Model: SHSRI23622
Warranty: 8 months
Brand: Bayer



Features
8 MONTHS OF PROTECTION: Seresto collars provide 8 months of continuous flea and tick prevention.
WORKS THROUGH CONTACT, NOT BITING: Seresto collars kill and repel pests on contact. They don't have to bite your dog to start working!
NO NEED FOR MESSY, MONTHLY TREATMENTS: This convenient, odorless, non-greasy collar is easy to use and does not require further maintenance once applied.
BUNDLED WITH LIL' BITZ TRAINING TREATS: Lil' Bitz are natural, low-calorie treats that are perfect for training, rewarding and spoiling your dog.
WHOLESOME AND NATURAL TREATS: Our dog training treats are grain-free and contain no artificial flavors or colors.
New from $104.36 (1 offers)