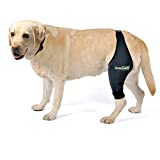 Ortocanis Original Knee Brace for Dogs with ACL, Knee Cap Dislocation, Arthritis – Keeps The Joint Warm – Reduces Pain and Inflammation – 9 Sizes for Left or Right Leg (XL – Left.)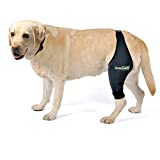 Price: $44.90 ($44.90 / Count)

Brand: Ortocanis



Features
Reduces pain in cases of cruciate ligament injury, osteoarthritis and kneecap problems
Improves balance among the muscle groups, helps dogs with limping and joint pain
Increases the stability preventing the injury from turning into a more serious condition
Recommended by worldwide vets
CAN'T FIND THE SIZE? Each knee brace is carefully handmade by our experts in Barcelona to ensure Ortocanis standards. Some sizes could be occasionally out of stock. We are working hard to make them available very soon.
New from $44.90 ($44.90 / Count) (1 offers)