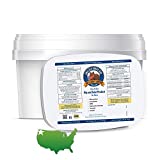 Grizzly Joint Aid Mini Pellets Extra Strength Hip and Joint Support for Dogs | Glucosamine, Chondroitin, Wild Alaskan Salmon Meal (32 oz)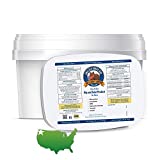 Price: $45.00

Model: 543
Brand: GRIZZLY SALMON OIL OMEGA 3 FATTY ACIDS ALL-NATURAL



Features
AIDS IN THE NATURAL MAINTENANCE OF JOINTS. Helps Maintain and Support Joint Flexibility and Movability, Recovery from Injury, and Stiffness or Soreness Associated with Normal Daily Activity. Helps Maintain a Normal Inflammatory Response. High Palatability – Natural Wild Salmon and Krill Taste that Dogs Love.
JOINT MAINTENANCE FORMULA. Grizzly Joint Aid Pellets is Formulated with Vital Active Ingredients to Maintain Joint Flexibility and Mobility, while also Addressing Discomfort.
FORMULA INCLUDES. Glucosamine Sulfate (shellfish source), Chondroitin (porcine source), Methyl Sulfonyl Methane (MSM), Turmeric, Krill Oil & Hyaluronic Acid (HA)
SUPPORTS SYNOVIAL FLUIDS, Connective Tissues and Cartilage, which is Crucial in Many Older Dogs. May Help Reduce Inflammation, Ease Aches and Discomforts, and Ease Joint Stiffness Associated with Normal Daily Activity, Exercise, Training, and Competition.
INCLUDES A MEASURED SCOOP FOR EASY AND ACCURATE DOSING. For best results, use regularly on a long-term basis. See Product Images for Feeding Instructions.
New from $45.00 (8 offers)