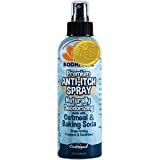 New Anti Itch Oatmeal Spray for Dogs and Cats | 100% All Natural Hypoallergenic Soothing Relief for Dry, Itchy, Bitten or Allergy Damaged Skin Treatment | Professional Quality – 1 Bottle 8oz (240ml)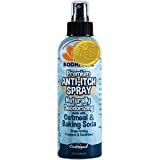 Price: $13.47 – save $8.52 (39%)!

Model: 3165810007
Brand: Bodhi Dog



Features
STOPS ITCHING ON CONTACT: Our plant and botanical based oatmeal baking soda spray provides instant, soothing, topical, relief to pets suffering from flea bites, hot spots, grass allergies, pollen allergies, food allergies, surgical stitches from surgery, scratches and flea bitten or raw and irritated skin. Use our natural dog spray to stop chewing, licking and biting instantly, and allow your pet to heal. Water, oat proteins, colloidal oatmeal, plant & botanical extracts, baking soda and more.
FORMULATED FOR SENSITIVE SKIN: Our formula contains high quality, all natural ingredients including oatmeal, oat proteins, wheat germ, and vitamins A, D, & E making it an excellent spray for pets with allergies and other sensitivities. The soothing oatmeal spray is 100% alcohol free and 100% non toxic. Gently test on a small portion to insure no reaction but made from a plant based blend of natural ingredients, our formula to not harm your pet if they ingest it.
AWARD-WINNING QUALITY: Winner of the 2020 Family Choice Awards. A coveted consumer award program recognizing outstanding pet products while enriching the lives of our fur friends. Our oatmeal pet spray offers safe, professional, quality for dogs, cats, puppies, kittens, ferrets, guinea pigs, rabbits and horses with normal or sensitive skin. Our anti itch pet spray is for all types of fur and will leave your pet's coat smelling clean and soft to the touch.
DEODORIZING LIGHT APPLE SCENT: We use a light, fresh apple scent coupled with baking soda, which offers antibacterial, antifungal, antiseptic and anti-inflammatory properties. Our baking soda pet spray works as a natural pet deodorizer that neutralizes pet odor instantly and keeps pets smelling fresh in between baths and trips to the groomers! It also works great as a detangling spray, making fur easier to brush and manage. Brushing after application will leave your pet's coat silky, and shiny!
OUR ETHICAL FAMILY COMMITMENT: Proudly made in the USA using socially responsible practices, locally sourced and sustainable ingredients, animal cruelty free production and eco-friendly recyclable packaging. We are a small family owned business of pet lovers committed to making great products that are safe for you, your pets and the planet!
New from $13.47 (1 offers)