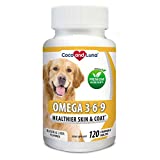 Omega 3 for Dogs – Salmon Oil for Dogs – Itch Relief, Brain Health, Skin and Coat, DHA EPA Fatty Acids, Immune Support – 120 Chew-able Tablets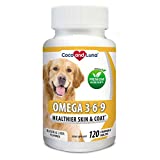 Price: $19.90 ($19.90 / Count)

Color: Itch Soothing Spray
Model: 3165810128
Warranty: Satisfaction guaranteed* — if you have any questions or feedback, please reach out to us directly via the contact info on the package.
Brand: Coco and Luna



Features
BYE BYE ITCHING AND SCRATCHING – Our OMEGA 3-6-9 supplement is an incredible source of fish oil for your furry loved one! Our formula will help to relieve your dog's dry and itchy skin and also contains Vitamin E, a powerful antioxidant that supports and boosts your dog's immune system. Get your dog off drugs and medications, relieve their suffering, let them heal naturally and live pain free.
NO MORE DOG HAIR ON FLOOR – Is your dog shedding excessively? Help him look and feel great again with our tasty, chewable, and affordable Omega 3 treats. Our healthy chews contain no wheat, corn, maltodextrin, animal digest, grains, soy, egg, potato, gluten, or avocado. Our formula provides a holistic nutritional boost for both small and large breeds, be they puppies or seniors.
AMAZING HEALTH SUPPORT FOR YOUR DOG – Our product treats coat conditions, itchy or flaky skin, and hot spots, while protecting your dog's heart aplement that treats coat and skin conditions, itchy or flaky skin, and hot spots while protecting your dog's heart and immune system. If your dog has been feeding off processed pet foods, it couldn't hurt to put them on a of DHA and EPA fatty acids supplement to ensure their skin is as healthy as possible.
COCO AND LUNA: A BRAND YOU CAN TRUST – We understand how much your dog's health and wellbeing means to you, so we manufacture our products in FDA-registered facilities that are NSF and GMP-certified in the USA. MADE IN THE USA. Veterinarian approved & hypoallergenic.
New from $19.90 ($19.90 / Count) (3 offers)