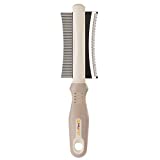 MIU PET 2 in 1 Dog & Cat Deshedding Brush & Grooming Comb, Double Sided Professional Brush for Short Medium or Long Hair, Effectively Remove Dead & Floating Hair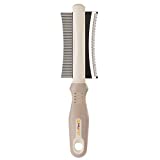 Price: $12.99 ($12.99 / Count)

Brand: MIU PET



Features
Professional Double-Sided Pet Brush: It is a pet comb & deshedding tool suitable for all types of hair, such as curly, thick, short, medium and long hair. Our deshedder is made of 4-inch high-quality Stainless Steel. It can both help massge your pets' skin and remove your pets' dead hair IN JUST 10 MINUTES.
Unique Curved Edge Design:The design of the curved comb & deshedding brush can make the hair removal tool more suitable for the skin of dogs & cats. Compared with the traditional straight hair removal brush, this one can make pets feel more comfortable while greatly improving the efficiency of hair removal.
Rounded Blade & Safe to Use:This 2 in 1Dog & Cat grooming Brush is engineered with top quality rust-free rounded stainless-steel teeth with just the right sharpness which is very safe to use. It will gently and effectly rid your pet off undercoat, dead hair without hurting or scratching their skin.
Egronomic Handle & Easy to Storage: This Dog & Cat shedding comb features a anti-slip, soft textured handle to provide you with a confortable, sure grip which eliminates hand and wrist fatigue. Also, it is very convenient to store which means you can hang it anywhere after using.
100% Satisfaction: This brush will save you a trip to the vet/groomers. MIU PET 2 in 1 Dog & Cat Deshedding Brush & Grooming Comb helps enhance the relationship between you and your pet. We provide worry-free 18-month warranty and friendly customer service.
New from $12.99 ($12.99 / Count) (1 offers)