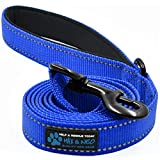 Max and Neo Reflective Nylon Dog Leash – We Donate a Leash to a Dog Rescue for Every Leash Sold (Blue, 6 FT)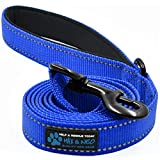 Price: $14.99

Color: BLUE
Model: Dog Leash-1
Warranty: NO
Brand: Max and Neo



Features
YOUR PURCHASE HELPS A DOG RESCUE: For every leash sold, we donate an identical leash to a dog rescue. Dog rescues are in constant need of dog supplies. We donate 1 for 1 for every purchase. By purchasing one of our dog leashes, you receive a premium high quality leash and you donate one to a rescue. Together we can support dog rescues with a never ending supply of leashes.
DOG RESCUES: Each month we donate to different rescues throughout the United States. For the month of October 2016, we are donating to the following rescues: Helping Paws Across Borders, Texas Husky Rescue, 2nd Chance Shelter, Animal Ark Rescue, One Step Close Animal Rescue (OSCAR), East Coast Gentle Giants Rescue, Inc, FURRever Friends and Kitten Care Rescue, Rottie Empire Rescue, Milwaukee Area Domestic Animal Control Commission, ARPH, and more…
QUALITY CONSTRUCTION: Our leashes have all the features of top of the line dog leashes. Our dog leash is 1″ wide and made of 2mm thick but soft heavy duty nylon webbing designed to handle the largest dog breeds. They are made to endure the constant use that dog rescues put them through. We consulted with many dog rescues to find out what they wanted in a perfect dog leash. And they answered: Tough, Heavy Duty, Durable, Comfortable and Affordable.
HIGH END FEATURES: Padded soft neoprene handle for comfort against the wrist. D-ring near handle to clip poop bags or other accessories. Quality heavy duty metal clasp. Reflective stitching to improve your visibility at night.
LIFETIME WARRANTY EVEN IF CHEWED BY YOUR DOG: We want to make sure that this is the best leash that you have ever purchased and we stand behind all of our products. Our warranty covers any defects in materials or manufacturing and even covers accidental CHEWING by your dog. So be sure to register your collar as soon as you receive it.
New from $14.99 (1 offers)