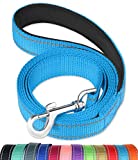 FunTags 6FT Reflective Dog Leash with Soft Padded Handle for Training,Walking Lead for Large & Medium Dog,1 Inch Wide,SkyBlue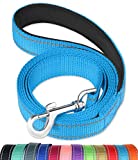 Price: $8.49

Color: SKYBLUE
Model: Dog Leash-1
Warranty: NO
Brand: FunTags



Features
✿COMFORT PADDED HANDLES: Easy to grip padded handle is comfortable on your hand.Just enjoy the feeling walks with your dog and protect your hand from rope burn.
✿REFLECTIVE AND NYLON MATERIAL: Nylon fabric with high density webbing to add durability. Luminous reflective threading through the full dog leashes enhances super high visibility to keep safe at night.
✿360° ROTATING CLASP: Swivel clasp prevents the leash from twisting and dog getting tangled, allowing your dog to get enough freedom. you to get a good control of your dogs.
✿IDEAL LENGTH AND WIDTH:6ft long leash allows your puppy to have enough space to walk. The 3/4″(2.0cm)width suitable for small to medium dogs, 1.0″(2.5cm)width suitable for medium to large dogs.
✿PERFECT COMBINATION: This dogs leash is a single product. We make nylon collar in various colors to match our beautiful leash. The matching personalized collar is available by search the asin "B07Z6BL7SB " .
New from $8.49 (2 offers)