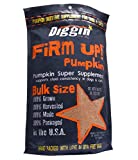 Diggin' Your Dog 1 Piece Firm Up Pumpkin Bulk Super Supplement, 16 oz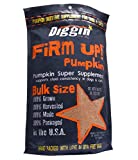 Price: $21.99

Color: Orange
Model: 521
Warranty: No warranty for this product.
Brand: Diggin' Your Dog



Features
CONVENIENT – Simply Mix with water for a canned pumpkin supplement consistency. Each 4 oz bag makes the equivalent of 3 cans of other digestive pumpkin brand canned supplements, making it very cost effective and waste free.
DITCH THE CAN – No more waste. No more mystery science projects in the fridge. Use what you need when you need it and put the rest away for next time. No worry, no waste, no can opener! Our pumpkin sets you free.
DIGESTIVE HEALTH – FiRM UP! quickly and effectively supports stool consistency and maintains proper digestive and normal bowel function in pets.
DIET TRANSITION – FiRM UP! is a great product to use when transitioning to a new or different food (diet). The fiber helps digestion and makes the switch much easier on your pets' digestive tract.
100% GUARANTEED – 100% Grown, harvested, produced, and packaged in the U.S.A. 100% free of pesticides and GMO's. 100% amazing for your dog.
New from $21.99 (9 offers)