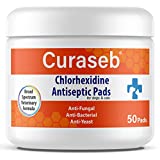 Curaseb Chlorhexidine Wipes – 50 Pads, For Dogs & Cats – Antifungal, Antibacterial & Anti Yeast – Treats Ringworm, Pyoderma, Acne & Hot Spots – Broad Spectrum Veterinary Formula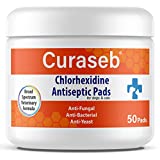 Price: $10.95

Brand: BEXLEY LABS



Features
★ ELIMINATES YEAST, BACTERIA, ACNE, FUNGUS, PYODERMA AND RINGWORM: Chlorhexidine Gluconate and Ketoconazole Combine To Create a Super Effective Antiseptic Pad That Treats a Broad Spectrum of Skin Related Problems in Both Dogs & Cats
★ NO-STING, PLEASANT SMELLING, SENSITIVE SKIN FORMULA: Our Vet Recommended Formula is Gentle for Sensitive Pets, Yet Powerful Enough to Knockout The Most Stubborn Skin Problem: Allergies, Hotspots, Cuts, Scrapes, Rashes, Infections and More.
★ SUPER THICK & SUPER MOIST TO TREAT HARD TO REACH AREAS: Our Super Thick Wipes Are Double-Sealed To Lock In Moisture, Always Ready to Treat Hard to Reach Areas like Ears, Groin, Folds, Wrinkles and Around the Legs.
★ VETERINARY STRENGTH FOR LESS MONEY: Compare Our Active Ingredients to Other Name Brands. Curaseb is The Same If Not Better Quality Than Other Leading Competitors. Why Pay More For A Name?
★ PAWS PROMISE: We Are So Confident in Your Satisfaction With Our Product That If You Don't Absolutely Love the Results You Get, Return It For A Full Refund. Even if the Bottle is Empty. There is No Risk; You Have Nothing to Lose.
New from $10.95 (1 offers)