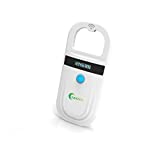 Yanzeo AR180 Pet Microchip Reader Scanner, RFID EMID Animal Handheld Reader,134.2kHz Pet ID Scanner Rechargeable Animal Chip Scanner Pet Tag Scanner FDX-B(ISO 11784/11785)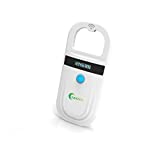 Price: $79.00

Color: White
Model: AR180
Brand: Yanzeo



Features
Video: https://www.youtube.com/watch?v=AK-xUe19X7I
This is a low frequency tag scanner that adopts wireless identification technology .(Please note:this item only read FDX-B ISO11784/85 agreement, Please contact your electronic label supplier to confirm the protocol parameters. Thank you for your cooperation.)
Best Service .We will reply your question asap.Just feel free to contact us if any problems.
In order to ensure what you buy is what you need, Please confirm the frequency efficiency and agreement of your electronic tag. Technical Support Telephone: +86 13875011578
Animal RFID Tag Reader EMID,FDX-B FDX-B(ISO11784/85). The reader CAN NOT read Avid chips.
New from $79.00 (1 offers)