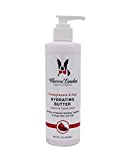 Warren London – Hydrating Butter For Dogs Skin & Coat,8 Oz,Pomegranate & Acai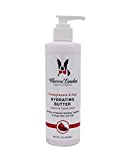 Price: $12.99 ($1.62 / Fl Oz)

Color: NO Color
Model: WL100601
Warranty: Warren London – Hydrating Butter For Dogs Skin & Coat,8 Oz,Pomegranate & Acai
Brand: Warren London



Features
Premium non-oily leave-in conditioner that hydrates, conditions, de-matts, and moisturizes. It will leave your pup's skin and coat feeling silky smooth without feeling greasy.
Dog Itching Skin Relief – Adds Vital Nutrients while Moisturizing and Conditioning. Helps combat dog dry skin, dog itchy skin, and dog dandruff. Works well as routine maintenance in between baths using dog shampoo, oatmeal dog shampoo, and dog shampoo for sensitive skin.
Works On All Coats & Breeds – Penetrates, conditions, and detangles the coat on long haired dogs while also softening the fur on short haired breeds. Especially popular with Boston Terrier, French Bulldog, Doodle, Golden Retriever, Labrador Retriever, German Shepard, English Bulldog, Poodle, and more!
Aromatherapeutic Fragrance – Leaves even smelly dogs fresh and deodorized. This moisturizer can be used in place of dog cologne, pet perfume, or a dog spray deodorizer. Use as a refresher in between washes. Works especially well with exfoliating dog shampoo for smelly dogs.
Easy To Apply – Simply rub lotion into the pet's coat and skin and let dry. No rinse! Use routinely in between baths, grooms, and shampoos.
New from $12.99 ($1.62 / Fl Oz) (1 offers)