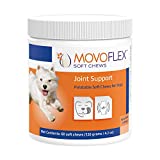 Virbac MOVOFLEX Joint Support Soft Chews for Small Dogs (60 Count) | Veterinarian Formulated, Gluten-Free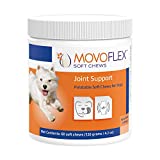 Price: $42.99

Model: 814514020030
Brand: Virbac



Features
PROVEN JOINT SUPPORT: MovoFlex soft chews are designed to provide support for your dog, especially during the early stages of joint discomfort.
FOR SMALL DOGS UP TO 40 POUNDS: Convenient one-chew-a-day dosing provides 60 day supply. Requires no initial loading dose.
UNIQUE FORMULATION: Contains a proprietary blend of 5 effective ingredients. Innovative use of egg shell membrane supports joint flexibility.
EASY TO ADMINISTER: The chews are liver-flavored and highly palatable for optimal compliance.
SUITABLE FOR DIETARY RESTRICTIONS: Gluten-free, sugar-free and shellfish-free, low-sodium formulation.
New from $42.99 (4 offers)