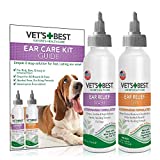 Vet's Best Dog Ear Cleaner Kit | Multi-Symptom Ear Relief | Wash & Dry Treatment | Alcohol-free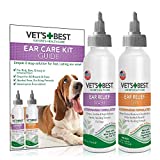 Price: $11.01 – save $4.48 (29%)!

Model: 3165810023
Brand: Vet's Best



Features
COORDINATED TREATMENT – Vet's Best Dog Ear Relief Wash & Dry Cleaner Kit cleans and soothes raw, itchy, and smelly dog ears, and keeps dog's ears fresh and dry between baths.
FAST AND EFFECTIVE – Ear Relief Wash provides fast, effective relief from red, raw, greasy, itchy, and irritated ears.
LASTING RESULTS – Ear Relief Dry helps to extend the time between ear cleanings.
NATURAL INGREDIENTS – Both formulas contain natural ingredients in gentle and soothing combinations, including chamomile, clove oil, tea tree oil, and aloe vera.
MADE IN THE USA – Both formulas are alcohol-free and non-stinging.
New from $11.01 (6 offers)