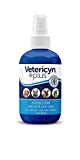 Vetericyn Plus Antimicrobial Wound and Skin Care. Spray to Clean Cuts and Wounds. Itch and Irritation Relief. for Cats, Dogs, Livestock and More. 3 oz. (Packaging/Bottle Color May Vary)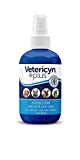 Price: $14.25 – save $9.84 (41%)!

Model: 1007
Brand: Vetericyn



Features
ANTIMICROBIAL WOUND AND SKIN CARE. (Packaging/Bottle Color May Vary) As the first line of defense for your pet, this solution cleanses wounds and other ailments safely and effectively. It is approved for use on all animals – from cats and dogs to horses and livestock – and all ages.
PAIN-FREE SOLUTION. Clean wounds without the burn or sting. First move excess hair from the area, then spray or saturate and apply a dressing 3-4 times a day until the wound heals. Keep wounds cleaned and moist for faster healing.
RECOMMENDED BY VETERINARIANS. Save yourself the expense of a trip to vet with solutions your animal care provider would recommend. From your home to the farm or ranch, care for your animals where they are happy and comfortable.
INNOVATIVE, RELIABLE ANIMAL HEALTHCARE PRODUCTS. Vetericyn is committed to developing the most safe, effective and innovative animal health and wellness products in the world. Each one is produced with scientific research and a standard of excellence.
STANDARDS YOU CAN TRUST. All products are manufactured under strict international guidelines and in an FDA-registered, state-of-the-art facility in the USA. Parent company Innovacyn, Inc. is family-owned and operated since 2009 in Rialto, CA.
New from $14.25 (11 offers)