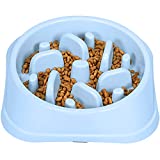 UPSKY Slow Feeder Small Dog Bowls Non-Slip Puzzle Bowl Feeder Interactive Bloat Stop Dog Bowl Anti-Choking Dog Bowl for Small and Medium Dogs(Blue)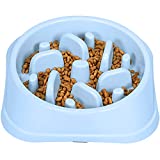 Price: $6.99

Color: Blue
Model: 012
Brand: UPSKY



Features
Slow Feed Concept: The slow dog feed concept is advocated by experts and veterinarians widely. This UPSKY slow feeder dog bowl makes it come true. The raised parts in the bowl separates the food when dog's eating, which naturally improve digestion by allowing dogs to forage for their food.
Using Qualified Material: The slow feeder bowls are made of PP resin which is food-safe, non-toxic, harmless but durable and recyclable.
Elegant & Practical Design: Choosing bright macaron colors that will attract dogs' interest, make it much more fun for the dog while eating. The raised parts are not too high and the gaps are not too narrow, making it easy for dogs to get the food.
Light And Exquisite: The bowl weighs 4.6 ounces only. It saves the material, so as the space in your home. And its capacity is 2 cups, a perfect size for small and medium dogs.
Easy To Clean–For the slow feeder bowl has PP coating, cleaning of the bowl is also easy, it not only save your time but also keeps the bowls clearly.
New from $6.99 (1 offers)