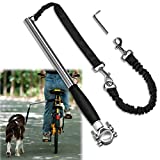 Unicam Retractable Bicycle Dog Leash, Hands Free Bike Leash for Pet Dogs, Safety Dog Bike Leash Fit for Outdoor Exercise, Dog Walking Essentials, Easy to be Installation and Removal.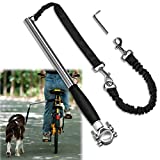 Price: $29.99

Color: sfdsf
Model: MS-708
Warranty: Safety Information
Do not attempt to open the leash casing, as there is a loaded coil spring inside which could be hazardous. Contact manufacturer if there is a problem with the leash. Do not let your dog run to the end of the line, as excessive pull force could pull the user and cause injury. Inspect the nylon leash material before each use and do not use if it is damaged or frayed (watch out for abrasion and biting, as these are the main causes). Do not use the leash if it is damaged or if your dog's collar is damaged – snapback can occur if there is a break and cause serious injury. Do not allow the leash to wrap around any body part.
Brand: Unicam



Features
Premium Materials- Our dog hands free leashes rod body is high-strength, made of hard stainless steel, and the handle is covered with silica gel for better grip.
Fantastic Function- This free hand bike leash is suitable for all bicycle's models, it could give your dogs a guidance, and control your dog to run with your bike rhythm, also the detachable elastic give your dog more space for running and jogging.
Robust And Durable Construction- High carbon stainless steel metal and reinforced nylon.
Easy Installation And Removal- Our dog bike leash could attach to the seat post via a clamp mechanism, easily removed from the bike, tightened and loosened in a few minutes, compatible with any type of bike.
Keeps Your Dog Safe- The 16.5″ guide pole keeps your dog at a safe distance from the bike wheels, and the retractable elastic rope could reach 30″ maximum, gives him plenty of room to run alongside.
New from $29.99 (1 offers)