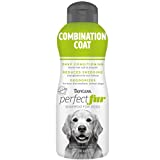 TropiClean Perfect Fur Combination Coat Shampoo for Dogs, 16oz – Use with Undercoat Rakes for Easy Brush Out – Unique Formula for Shedding Control and Smelly Coats – Made in USA – Naturally Derived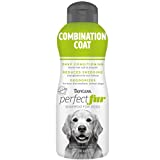 Price: $14.99

Color: Clear
Model: PFCNSH16Z
Warranty: We partner with retailers regarding all returns in accordance with each retailer's return policy. If you wish to return your product(s), please bring the remaining product(s) along with your receipt to the retailer you purchased it from for return consideration.
Brand: TropiClean



Features
DEEP CONDITIONING – restores natural moisture to help leave hair soft & smooth
REDUCES SHEDDING – gently exfoliates skin and loosens coat to reduce excess shedding while strengthening the hair follicle
DEODORIZES – eliminates odors to give even the smelliest, dirtiest dogs a fresh, clean coat
MADE IN THE USA – We proudly manufacture and ship our products with only the highest quality, naturally derived ingredients.
MADE WITH NATURALLY DERIVED INGREDIENTS – TropiClean defines ingredients to be naturally derived if they are either naturally-occurring raw materials or are adapted from naturally-occurring plant or mineral based raw materials.
Contains one (1) 16 ounce shampoo bottle.
TropiClean Pet Products offers a full range of naturally-derived cat and dog products including TropiClean Grooming Products, TropiClean Natural Flea & Tick, TropiClean Perfect Fur, SPA by TropiClean, TropiClean OxyMed and Fresh Breath by TropiClean Oral Care and Dental Products.
You Make the Moments. We Make them Fresh.
Sweet Citrus fragrance
SHAMPOO AS UNIQUE AS YOUR DOG'S COAT – Perfect Fur formulas are specifically designed for your dog's unique coat type: Combination, Curly & Wavy, Long Haired, Short Double, Smooth, and Thick Double.
New from $14.99 (1 offers)