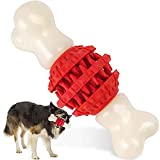 Tough Dog Toys for Large Medium Breed, Epesiri Durable Dog Chew Toys for Large Dog, Nylon Bone Heavy Duty Dog Toy for Puppy, Soft Natural Rubber Toothbrush Puppy Teething Chew Toy Ball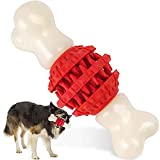 Price: $18.99 ($18.99 / Count)

Color: 1 pack
Model: 17570
Warranty: HAPPINESS, GUARANTEED – Have an issue? Want to chat? Reach out to us directly and you'll get a real person whose sole job is to make you and your pup happy.
Brand: Epesiri



Features
Tough Dog Chew Toys: This dog chew toy will work for small medium and large breed dog puppies that weigh 15-90 pounds. Every dog likes bones, this heavy-duty dog toy bone for a paw-friendly grip so your love can quickly grab it and get a good chew going. There are few activities your canine companion loves more than chewing, the tough dog toys keep them mentally and physically stimulated, and improves their dental health.
Safe Dog Toothbrush Teething Cleaning Toy: The middle part of this chew teething toys bone is designed with a teeth cleaning rubber brush that gentler on developing teeth, soft rubber dots help to gently massage gums, regularly chewing on the bone will help maintain your dog's dental hygiene, prevent plaque and tartar, and provide relief for teething pain. Cleans teeth and freshens breath is a win for both you and dogs.
Natural Beef Flavor Dog Toys: This natural dog toy with long-lasting beef flavor will keep your dog happily occupied, and away from your favorite shoes and furniture for hours. Your dog will never stop chasing it because this beef flavors tough dog chew toy has a dog's favorite smell or food.
Interactive Dog Toys for Large Chewers: Dogs can get bored, especially when left alone. When dogs suffer from loneliness or boredom, it may affect their life. Keep them busy for hours with interactive dog toys. Interactive and stimulating dog toys are a great solution for bored dogs. To make things even more fun for your dog and make the playing time longer, you can apply a thin layer of peanut butter on the chew toy.
Safe Teething Chew Toys for Puppies: Puppy about 8 months old will go through a teething period, at this stage, they will need to chew to suppress anxiety and tooth itching. This puppy teething chews bone toy is an excellent choice with teething puppies. Dogs who are playing with chewing toys will reduce anxiety. This dog chew bone will not only keep your dog's teeth clean but will also keep him exercised and make dogs happier.
Best Dog Toys Satisfaction Guarantee: Dogs are sometimes unpredictable. This dog chew toy has been tested by German Shepherds, Mastiffs, Siberian huskies, Labrador, Golden retrievers, and many other power chewers countless times, but except for aggressive Pitbulls. If there is any quality problem with the dog bone toy, please contact us and we will be happy to replace or refund you.
New from $18.99 ($18.99 / Count) (1 offers)