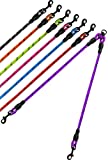 Taglory Double Dog Leash Coupler, Reflective 2 Dog Leash,30 inch, Purple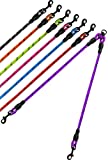 Price: $9.99 ($9.99 / Count)

Color: Purple
Brand: Taglory



Features
Durable Rope Leash Coupler – 1/3″ thick reflective rope created,30″ long for puppies, small and medium dogs
Tangle Free – With a 360° swivel connection, this coupler will be no tangle while daily walking
SAFETY – Benefit extra safety at night from the reflective stitching that spans the length of both leads, this double dog coupler provides a more comfortable and pleasant walking experience for you as well as your dog. Life is easy!
Matching Leashes – There are matching leashes available
PET FIT FOR LIFE – We back our products with a 100% customer satisfaction money back guarantee. If you are not completely satisfied with your purchase, we will replace or refund no questions asked. We welcome all feedback about our products and address any issues immediately.
New from $9.99 ($9.99 / Count) (1 offers)