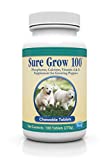 Sure Grow 100 (Trophy Animal Health Care) Aids in Development of Healthy Bones Tendons and Ligaments for Puppies Chewable Tablets 100 Ct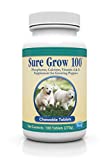 Price: $17.90

Model: 40031449
Warranty: Unspecified
Brand: Lambert Kay



Features
Calcium, Phosphorus Vitamin Supplements. Promote optimal bone ligament and tendon development in Puppies.
Unique & Exclusive formulation of calcium highly available phosphorus and vitamins A and D.
Contains vitamin A acetate to increase connective tissue and tendon strength.
Contains vitamin D3 to aid in calcium and phosphorus absorption.
100 count bottle. Puppies will love the flavor. Can be given as a treat or bait.
New from $17.90 (2 offers)