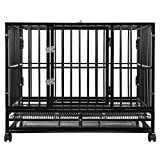 SmithBuilt 36″ Medium Heavy-Duty Dog Crate Cage – Two-Door Indoor Outdoor Pet & Animal Kennel with Tray – Black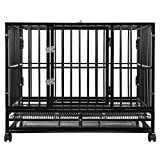 Price: $199.99

Color: Black
Model: PET-CAGE-Z36
Warranty: For one (1) year from the date of original purchase, MIDWEST Homes For Pets ("MIDWEST") warrants to the purchaser of this product that, should it prove defective by reason of improper workmanship and/or material, MIDWEST will repair or replace, at its option, any defective part of the product, without charge for the part or for shipping. Replacement parts are warranted for the remainder of the original period. 2. THIS WARRANTY DOES NOT COVER defects in the enclosure caused by any animal, any physical abuse to or misuse of the product, any damage caused by the original purchaser or any third party, or any defects arising or discovered more than one (1) year from the original retail purchase date.
Brand: SmithBuilt



Features
Premium-grade construction: Commercial-quality steel construction provides a heavy-duty, solid framed pet crate expertly crafted and designed to keep pets safe and comfortable. Built-to-last, animal cage features a 3/4″ frame reinforced with 1/2″ diameter (20 gauge) welded steel tubes for top to bottom strength and durability.
Convenient two-door design: Great for puppies, growing pets, and energetic breeds; this kennel features both top and side door access. The front door locks with two slide-bolt latches, and the crate top with one.
Rolling with locking wheels: Includes four rolling casters for easy transfer from room to room. Two wheels have locks to prevent accidental movement and keep your cage securely in place.
Rust & corrosion-resistant: Featuring a multi-layer, protective hammer-tone coating that resists rust, corrosion, and fading, this cage is suitable for both indoor and outdoor use
Removable pan for easy cleaning: Tray is stain and rust resistant and won't retain pet odors. Grated design allows for any soiling to drop to the lower pan to maintain a clean environment for pets. Bottom pan features an integrated lip around the perimeter to contain any mess from spilling outside the kennel. Both trays are held securely in place by a retaining latch to prevent slipping, but can easily slide out from the bottom for easy and convenient cleaning.
New from $199.99 (1 offers)