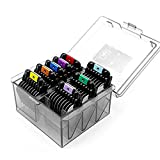 Shernbao Professional Animal Stainless Steel Clip Attachment Guide Comb Set for A5 style Detachable Blade Pet, Dog, Cat, and Horse Clippers (ONLY Snap on Size # 10/15/30)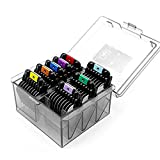 Price: $29.99 ($29.99 / Count)

Color: Multi-Colored
Model: 3390-100
Warranty: 30 Day Satisfaction Guarantee
Brand: shernbao



Features
The attachment combs fit all type A5 detachable blades (sizes 10, 15, and 30) ,These attachment combs are designed to fit over standard A5 detachable blades and come in sizes that address the most common grooming needs. also compatible with most Oster ,Wahl and Andis detachable-style clippers.
Size:Red(1/8″), Dark Purple(1/4″), Dark Blue(3/8″), Peach(1/2″),Yellow( 5/8″), Light Purple(3/4″), Light Blue(1″),Green(7/8″).
8 Color coded for easy identification, effortlessly glide through small, medium, and large-sized dogs and cat coats.
What You Get: Set of 8 stainless steel guide combs for pet grooming and a storage box .
TOP QUALITY & FAST SERVICE:Shernbao USA headquarter located in Los Angeles, California with professional customer support team. If you have any questions with our products, you can either contact or email. (you can find our phone number or email address on the instruction menu) Our experts will provide you the best customer support.
New from $29.99 ($29.99 / Count) (3 offers)