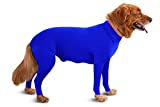 Shed Defender Original Dog Onesie – Seen On Shark Tank, Contains Shedding of Dog Hair for Home, Car, Travel, Anxiety Calming Shirt, Surgery Recovery Body Jumpsuit, E Collar Alternative(Royal Blue,XL)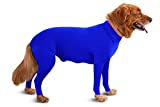 Price: $57.99

Color: Royal Blue
Model: FG00520
Warranty: AS LISTED
Brand: Shed Defender



Features
CONTAINS SHEDDING: The patent pending Shed Defender is a onesie that contains the dog's hair within the suit to reduce the shedding, while still allowing the dog to shed naturally. Perfect solution to contain dog hair in the house, car, or anywhere you don't want to leave a trail of hair! Spend less time sweeping and vacuuming and more time cuddling!
REDUCES ANXIETY: The dog onesie's snug fit applies gentle pressure, making dogs feel more calm, confident and secure. Whether its thunderstorms, fireworks or separation anxiety, the Shed Defender can soothe your pup into relaxation when wearing the calming shirt.
E COLLAR REPLACEMENT: The jumpsuit can be used to replace the bulky, uncomfortable medical cone; covers hot spots, post-surgery use – surgery sites, prevents scratching, licking and itching, protect and alleviate allergies and other skin conditions. VETERNIANRAN APPROVED AND RECOMMENDED.
PROTECTION FROM THE ELEMENTS: Use on hikes for tick prevention and protection from other bugs, pests, stickers and burrs. Shield from cold weather and wind, prevent hair freezing in the snow, offers UV protection, keeps your dog clean when outside or at the dog park or beach. It is a must when traveling in the car and going on outdoor adventures.
ECO-FRIENDLY, SUSTAINABLE FABRIC: Made from our proprietary fabric called Shed-Tex, which is recycled polyester and spandex made from recycled plastic bottles. Shed-Tex is lightweight, breathable, and four-way stretch, ensuring the dog stays cool and comfortable. Allows for full mobility and does not hinder any movement for the dog. Through our PAW IT FORWARD program, we donate a portion of every sale to animal shelters and rescue groups.
New from $57.99 (1 offers)