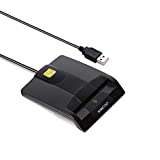 saicoo DOD Military USB Common Access CAC Smart Card Reader, Compatible with Mac Os, Win (Horizontal Version)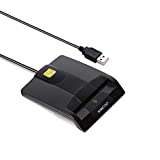 Price: $15.99

Color: CAC Card reader V1
Model: FBA_S0201B-SSM
Warranty: GEEKERS
Brand: saicoo



Features
DOD Military CAC USB Smart Card Reader for Government ID, National ID, ActivClient, AKO, OWA, DKO, JKO, NKO, BOL, GKO, Marinenet, AF Portal, Pure Edge Viewer, ApproveIt, DCO, DTS, LPS, Disa Enterprise Email etc. CAC Cards
Compatible with Windows (32/64bit) XP/Vista/ 7/8/10, Mac OS X
Sleek ergonomic design -gloss black finish. Piv and EMS ready. ISO7816 Class A, B and C.
Compatible with US Military and Government DOD ID cards for secure login; And RECOMMENDED by militarycac
What you get: saicoo CAC USB smart card Reader, CD driver, 18-month and lifetime technical support.
Used from $14.71 (4 offers)
New from $15.99 (1 offers)