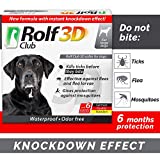 Rolf Club 3D FLEA Collar for Dogs – Flea and Tick Prevention for Dogs – Dog Flea and Tick Control for 6 Months – Safe Tick Repellent – Waterproof Tick Treatment (L)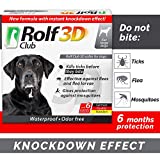 Price: $25.00

Color: Blue
Model: 86145928
Warranty: None
Brand: Rolf Club 3D



Features
✅NEW GERMAN FORMULA: MORE THAN 6 MONTH OF BEST PROTECTION-New German Technology gives you effective flea and tick prevention for dogs for 6 month!
✅3D PROTECTION FOR YOUR PET – effective against Fleas – larvae – Ticks and Mosquitoes. This flea collar for dogs was designed to be HELPFUL either for small medium size or large pets.
✅QUICK EFFECT – Rolf 3D Dog flea collar kills fleas within the first 24-48 hours after the start of use. Its main aim is to provide your pet with proper flea tick treatment & this flea tick collar does it well.
✅KNOCK DOWN EFFECT – TESTED BY THE BEST VETERINARIANS: new German formula was specially used in the best flea collar and helps to achieve the best results.
✅100% SAFE FOR YOUR DOG/CAT – non-toxic tick repellent that treats with care. Our dog flea medicine kills and repels fleas and ticks quickly and leaves them no chance to survive! No harm for dogs! No strange smell!
New from $25.00 (1 offers)