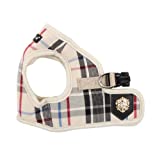 Puppia Authentic Junior Harness B, Small, Beige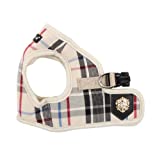 Price: $25.60 – save $2.64 (9%)!

Color: Beige
Model: PAMA-AH978-BE-S
Warranty: Lifetime warranty if purchased from authorized seller.
Brand: Puppia



Features
Size: Small-Neck-9.1″, Chest-11.6″ to 12.0″
Checkered and Solid Schemed
Material: 50-percent Cotton 50-percent Polyester (shell), 100-percent Cotton (lining)
Please check the sizing chart image for correct size. The size chart indicates the actual measurement of the product. (Please make sure your dog's measurement do not exceed the size chart measurement)
Unlike human clothes, pet apparel designers have different sizing characteristics. Please do not purchase a Puppia harness based on the size of another manufactuerer/designers.
New from $25.60 (4 offers)