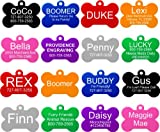 Providence Engraving Pet ID Tags in 8 Shapes, 8 Colors, and Two Sizes – Personalized Dog Tags and Cat Tags with 4 Lines of Customizable Text Available in 8 Shapes and Colors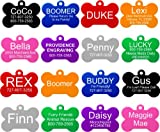 Price: $3.99 – save $5.96 (60%)!

Color: Red,blue,pink,green,gold,black,silver,orange,purple
Model: PE_1287
Brand: Providence Engraving



Features
These personalized pet ID tags for dogs and cats feature clear lettering and room for four lines of text on each side.
The tags come in both large and small sizes. Large tags measure approximately 1.3 inches in diameter and are recommended for large and medium-sized dogs, while small tags measure approximately 1 inch and are recommended for cats and smaller dog breeds.
Rectangle, star, circle, heart, paw, bone, cat and hydrant shape options are available, so you can choose a pet tag customized to match your pet's personality.
Personalize your pet's tag further by choosing one of nine different color options, including blue, red, pink, silver and more. Etched with a precision carbon dioxide laser, the white lettering will stand out against all background colors.
Laser etched and manufactured in the U.S. using high-quality, aircraft-grade, domestically sourced aluminum, these pet tags are durable, lightweight and safe.
New from $3.99 (1 offers)