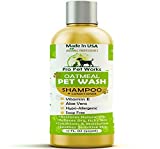 Pro Pet Works All Natural & Organic Oatmeal Puppy/Pet Shampoo + Conditioner-Hypoallergenic and Soap Free Blend with Almond Oil for Allergies & Sensitive Skin-17oz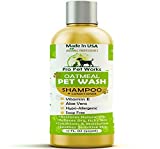 Price: $14.59 – save $5.36 (27%)!

Color: 17 oz For Allergies & Sensitive Skin. All Natural
Model: k3710
Warranty: Against Defect
Brand: Pro Pet Works



Features
[MADE IN USA] VET RECOMMENDED: Our Shampoo + Conditioner formula is recommended by Vets. Specially formulated for pets with allergies to food, grass and flea bites. PH balanced for sensitive skin. Cherry NO ALCOHOL, NO SULPHATES, NO ADDED COLORS, NO HARSH CHEMICALS, NO FRAGRANCE. MADE FROM ALL NATURAL INGREDIENTS.
NATURAL, ORGANIC INGREDIENTS THAT ARE MADE FOR DRY, SENSITIVE, ITCHY SKIN: The organic aloe vera and almond oil is therapeutic and soothing for your pets skin and coat. Keeps your pet smelling fresh.
ALOE ENRICHED, SOAP-LESS AND DETERGENT FREE SHAMPOO + CONDITIONER THAT MAKES BATH TIME A PLEASURE: Our special formulation has mixtures of organic aloe extracts, almond oil and vitamins A, D & E that wont irritate your dog's eyes, nose or skin while bathing. Makes for a soft, easy to brush, coat that will make your pet feel clean and smell clean several days after bathing Tough on dirt, not your pet. Helps to deodorize stinky pets.
OUR COMMITMENT TO EARTH & MOTHER NATURE: We strive to create a small print on our environment which is why our products are 100% biodegradable and made with recycled materials. Our dog shampoo is non-toxic and non-alcoholic with no animal by products. Paraben and Cruelty free.
OUR PLEDGE TO YOUR PET: We are a company of animal lovers and only want the best for your little pals We made this formula with care in mind for your pets and our own pets. After blending moisturizers, aloe vera and essential oils, we came up with a perfect blend that you would be proud to use on your best friend. Don't just take our word for it, try it and see the results for yourself.
New from $14.59 (1 offers)