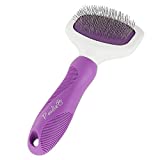 Poodle Pet Slicker Brush for Small and Large Dogs Pet Hair Remover with Rotating Head | Effectively and Effortlessly Removes Tangles, Mats, and Loose Hair | for Short or Long Hair(Grooming Brush)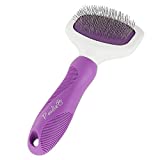 Price: $12.99

Color: Red
Model: 463
Brand: Poodle Pet



Features
BEST SLICKER BRUSH: When it comes to pet supplies you can count on, there's only one choice. Our slicker brushes handle features anti-slip rubber and a convenient hole for easy hook storage.
USE POODLE PET'S PET GROOMING TOOL ON DOGS AND CATS: The primary purpose of this slicker brush is to get rid of any debris, loose hair mats, and knots in the fur. It is rectangular in shape and has fine wire bristles packed tightly together. Each wire bristle is angled slightly to prevent scratches to the skin.
COATED TIPS PREVENT SCRATCHES: Each stainless steel pin is topped with a plastic tip to eliminate any discomfort. Brush easily, knowing that your pet will not get hurt. Even the most sensitive dogs and cats tolerate Poodle Pet Slickers.
THE FINE, WIRE PINS REACH INTO THE UNDERCOAT TO REMOVE LOOSE HAIR. Regular use deters matting and helps tidy the hair. If you come across a mat, brush the mat in different directions using the rotating feature. This will help loosen the mat until you can brush through it. Be careful not to pull the hair.
IF YOUR POOCH HAS CURLY HAIR OR A DOUBLE COAT, the slicker brush is your best friend. Brush your pup's coat from the surface to the end of the hair with the slicker brush. Be careful not to scrape the wires on the skin. You are working out the dead hair. If your pup has medium to long hair, lift the hair as you brush out toward the end of the hair.
New from $12.99 (1 offers)