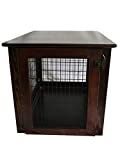 Pinnacle Wooden Dog Crate Furniture End Table Bed in Different Stain Colors (Espresso, Large)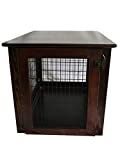 Price: $549.00

Color: Espresso
Model: 39523
Warranty: 1 Year Manufacturer
Brand: Pinnacle



Features
The product is made of solid and high quality, eye catchy Maple wood that looks great to keep anywhere inside your house.
You have the option to select from the list your favourite Stain Color and the Sizes suitable to your pets size.
The item is made in such a way that it serves as a dog crate and as well as end table.
There is proper ventilation and visibility for your pet.
Please note: Durable mattress is not included with the item(sell separately).
New from $549.00 (1 offers)