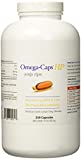 PHS Omega-Caps High-Potency (HP) Snip Tips for Medium and Large Dogs – Omega-3 Fatty Acids, Vitamins, Antioxidants – Supports Immune System, Joints, Heart, and Brain – Made in USA – 250 Capsules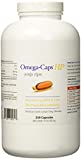 Price: $55.11

Color: Large/Giant Dogs
Model: OMEGAHPL250
Warranty: 2 year
Brand: HealthyPets



Features
SUPPORT YOUR DOG'S HEALTH AND IMMUNITY: Our comprehensive blend of essential fatty acids, vitamins, minerals, and antioxidants provides a variety of benefits to your pet's health. Essential fatty acids also play a key role in vascular health by promoting normal circulation.
HIGHLY CONCENTRATED FISH OIL AND ANTIOXIDANT SUPPLEMENT: Omega-3s EPA and DHA are essential to the healthy functioning of your pet's body. Antioxidant Vitamin E is included to help their body remove damaging free-radicals.
OMEGA-3s FOR DOGS: These fish flavored snip tip capsules are an easy way for your pet to maintain a healthy immune system, brain and nervous system, heart, and joints. These fatty acids cannot be produced by your pet's body and Omega-Caps are a great way to supplement these essential nutrients.
QUALITY PRODUCT WITH QUALITY INGREDIENTS: Our products meet all the quality and safety standards set by the National Animal Supplement Council (NASC). The NASC Quality Seal is obtained by companies whose products commit to promoting the well-being of beloved pets. Products with this seal undergo a strict inspection and are determined to have consistent quality control and accurate labels.
CARRIES A PRODUCT GUARANTEE: Try our product without worry. You may return the product for a full refund if you are not satisfied for any reason.
New from $55.11 (1 offers)