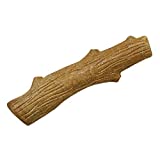 Petstages Dogwood Stick Large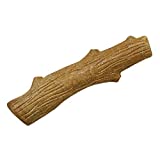 Price: $5.99

Color: Brown
Model: 219
Brand: Petstages



Features
DURABLE ALTERNATIVE WOOD CHEW TOY: Petstages Dogwood chew stick is made in the U.S.A. from a blend of natural wood fiber and safer synthetic materials to mimic the texture and taste of real wood that your dog will love.
ENCOURAGES POSITIVE CHEW BEHAVIOR: Our Dogwood alternative dog chew toy will provide a great outlet for your teething pups and encourage a healthier outlet for dogs who need to satisfy their natural chewing urges.
SAFE FROM SPLINTERING: Real tree branches can splinter and cause oral and intestinal damage in dogs who love to chew. That's why Petstages Dogwood chew stick is a safe alternative to the traditional stick made from a blend of natural wood and synthetic materials.
INDOOR AND OUTDOOR FUN: The Dogwood alternative chew toy is ideal for indoor or outdoor chewing and can even float in water! Available in 4 different sizes to suit all dogs.
PLAY IT SAFE: No toy is indestructible. Do not leave toys with unsupervised pets. Remove and replace toy if damaged.
New from $5.99 (10 offers)