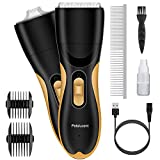 Petslucent Dog Clippers, Washable Pet Hair Grooming Kit with 2 Blade Heads, Low Noise Dog Trimmers Clipper Rechargeable Professional Cordless Shaver for Dogs, Cats, Rabbits and More Animals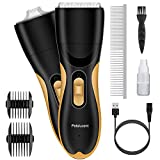 Price: $7.99 ($7.99 / Count)

Color: Dog Clippers-style2
Model: 09549
Warranty: 5 Year Limited
Brand: Petslucent



Features
🔥🔥 Waterproof 2 Blades: Petslucent dog hair clipper comes with 1 WIDE and 1 NARROW detachable cutter head, perfect for all breed of dog hair trimming. Simply shave both the body and small areas like ear, eyes, hip, paws, make home pet grooming easily.
👍👍 Whole Body Washable Pet Clipper Set: The dog grooming clipper is designed whole body washable by genius engineer with 10yrs experience, 2 blades can also easy detach for cleaning. Never worry again with huge fine hair after grooming.
🙉🙉 Low Noise: With whole body washable design and super mute sound-absorbing technology, Petslucent pet hair trimmer is in low noise less than 50dB while working. Let your pets feel ease during dog shaving.
☑☑ HighSpeed but Safe: 6000 rpm!!! Featuring high speed & low vibration copper-axis motor, our pet clipper are the safer & faster dog grooming kit for dog hair trimming. The pet clipper made by ceramic blades, never worry it would get stuck in the fur.
💯💯 Perfect Dog Hair Grooming Kit: Package include 1 pet trimmer, 2 Replaceable Head Blades, 1 cleaning brush, 2 positioning combs (3/6/9/12mm),1 USB cable, 1 bottle of oil, 1 stainless steel comb and 1 user manual. Necessity for Dog grooming.
New from $7.99 ($7.99 / Count) (1 offers)