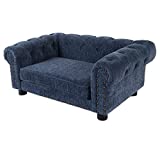 Petmate La-Z-Boy Tucson Sofa Dog Bed, Blue, 33″ x 23″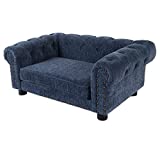 Price: $206.44

Color: Blue
Model: 85398
Brand: Petmate



Features
SOFA BED FOR DOGS UP TO 50 LBS: This sophisticated sofa is perfect for pets that like to sprawl out or curl up during rest. With a solid base & feet with human-grade upholstery, the pet bed sofa is sturdy & helps conceal pet fur.
COMFORTABLE DOG BED: This pet dog bed features supportive bolsters for additional head & neck support while your pet relaxes. Sitting a few inches off the ground, pets are protected from cold or hot floors.
DOG BEDS: Pets can feel at home both in the house & on-the-go with a variety of pet beds as well as plush kennel crate mats. La-Z-Boy beds fit every pet sleep style & complements any room in your home.
LA-Z-BOY: From small-scale cuddlers & loungers to extra-large mattresses & sofas with plush sleep surfaces & sturdy support, we have pet beds for dogs & cats to fit every sleep style.
JUST FOR PETS: Petmate makes a variety of pet products for dogs, cats, chickens & other small furry friends! Check out our brands such as Gen7, Healthy Chews, La-Z-Boy, SnooZZY, Chuckit!, Jackson Galaxy & more!
Used from $155.25 (3 offers)
New from $206.44 (4 offers)