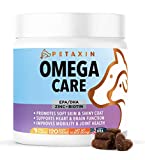 Petaxin Omega Fish Oil for Dogs – Skin and Coat Supplement Chews with EPA, DHA, and Omega-3 Fatty Acids – for Shiny Coats, Itch Free Skin, Hip & Joint Support, Heart & Brain Health – 120 Soft Chews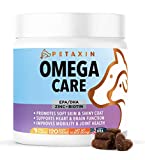 Price: $25.99 ($0.22 / Count)

Color: green
Model: 3165810007
Brand: Petaxin



Features
OMEGA-3'S FOR SKIN & COAT SUPPORT: Petaxin Omega Care soft chews blend pure krill and fish oils with key nutrients like Vitamin E and Biotin. EPA, DHA, and omega 3-6-9 fatty acids in each chew help promote soft non-itchy skin and a healthy coat so your dog can shine all year round.
PROMOTES IMMUNE, BRAIN, & HEART HEALTH: A healthy balance of omega fatty acids supports healthy inflammation, cardiovascular health, and healthy brain function. Antioxidants in our chews boost the immune system and help protect cells from free radical damage for optimal health and longevity.
IMPROVES ALLERGY SYMPTOMS & SOOTHES JOINT DISCOMFORT: Vitamin E, Vitamin C, Biotin, and Zinc can help reduce the itching, flaking, and hot spots that develop from allergies. They also help lubricate hips & joints to encourage overall flexibility and mobility in your favorite pup.
PERFECT FOR ALL STAGES OF DOG'S LIFE: Petaxin's omega 3 for dogs supplement is perfect for dogs of all ages during their whole lifespan. Omega-3 fatty acids support brain and eye development during the puppy years and also help maintain joint & brain function as they grow older.
DROOL WORTHY FLAVOR – MADE IN USA: Not only is every Omega Care soft chew free of GMOs, corn, grain, and wheat, but each comes in a fish flavor that dogs find irresistible and gobble up like treats! We manufacture our dog omega 3 supplement in the USA in a FDA registered cGMP facility to ensure premium quality.
New from $25.99 ($0.22 / Count) (2 offers)