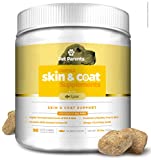 Pet Parents USA Omega 3 for Dogs 4g 90c – Dog Skin Care & Fur Vitamins for Dogs, Skin Supplement for Dogs, Omega Dog Treats, EPA & Dog DHA, Anti Itch Dog, Dog Itch Relief, Epax + Salmon Oil for Dogs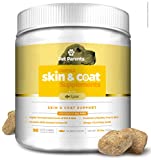 Price: $25.00 ($0.28 / Count)

Color: Blue
Model: 0856521007154
Brand: Pet Parents



Features
USA OMEGA 3 FOR DOGS: Our dog omega supplement will provide your furbaby with powerful nutrients that promote a healthy & shiny skin & coat, including dog omega 3, fish oil for dogs (Epax), & salmon oil for dogs. Our omega dog treats help relieve dog itch relief for furbabies of all breeds, ages, & sizes. If your furbaby has dry & itchy skin, dandruff, hot spots, a dull dog coat, or is struggling with skin allergies, our dog skin care supplements will help provide a shiny, healthy skin & coat.
NO FILLERS + SUPERCHARGED, BRANDED INGREDIENTS: Our omega dog chews lead with whole meats & veggies, not rice & oats. On top of our skin vitamins for dogs premium active ingredients, our inactive ingredients are loaded with nutrients: salmon, sweet potatoes, tomatoes, & carrots. We use the clinically-proven branded ingredient, Epax, that undergoes a proprietary process that increases its efficacy & is more effective than basic dog fish oil found in most other fur vitamins for dogs.
ITCHY DOG RELIEF, DANDRUFF + FULL COAT SUPPORT: Whether it's itching & scratching, bald/hot spots, flaky skin or you just want your furbaby to have a healthier coat, our skin supplement for dogs help promote a dandruff-free, anti itch dog, healthy skin & coat. Epax, an omega 3 fish oil for dogs, builds & repairs skin cells, promoting a fuller coat. Your furbaby's dry skin will be hydrated by wild salmon oil for dogs, zinc & omega oil for dogs. Biotin helps with hair & nails & rash-free skin.
POWERFUL BLEND OF NATURAL INGREDIENTS: Our omegas for dogs chews consist of some of the most effective & efficient ingredients you can find. Epax is a branded dog omega 3 fish oil rich in EPA & DHA for dogs, help condition skin & act as a dog hot spot treatment. Vitamin C for dogs is an antioxidant that works as a natural antihistamine & helps improve immune function & minimize dog allergies. Vitamin E for dogs helps protect skin from free radicals & biotin is key for softening dog skin & coat.
MADE IN GMP & FEDERAL APPROVED FACILITY + TOP DOG VALUE: Our skin supplement is formulated by leading pet supplement scientists. Most other supplements are private labeled & have the same/similar ingredients, the only difference is the label. Our dog omega 3 supplement is unique & provides your furbaby with a quality, result-driven, no filler formula designed to help promote a soft, healthy, itch & dandruff-free skin & coat for your furbaby, making a great snuggle buddy. Click add to cart now!
New from $25.00 ($0.28 / Count) (1 offers)