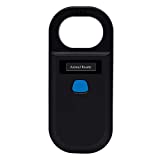 Pet Microchip Reader Scanner, Symcode RFID EMID Animal Handheld Reader Pet ID Scanner Rechargeable Animal Chip Scanner Pet Tag Scanner FDX-B(ISO 11784/11785) ID64 RFID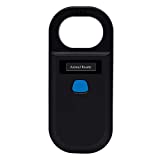 Price: $49.99

Color: Black
Model: 20066
Brand: symcode



Features
【SUPPORT FOR ISO 11784/11785, FDX-B AND ID64 FRID】The handheld reader supports for ISO 11784/11785, FDX-B and ID64 RFID, easy to operate, one button to read.
【HISTORY DATA CAN BE RESD】The history data can be read in the internal reading mode.
【Reader Operation Manual】1, Press the button to start the device and go into scan mode, start to scan the tags. 2, The reader will enter the standby state if no tags be scanned. 3, Place a tag in the antenna loop, press button to read. 4, Press button to read next tag. 5. If no tags be scanned, the device will shutdown automatically after 180 seconds or you can long press the button for 3 seconds to shutdown the device.
【BACKLIGHT SCREEN】The handheld reader has backlight screen makes it convenient for you to read.OLED display screen, readable in the sunlight.
【Data reading】- 5-12cm reading range,Works with Windows 98 or later software. Save up to 128 tag information and you can upload these information to computer via USB cable.
New from $49.99 (1 offers)