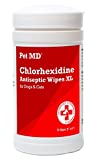 Pet MD Chlorhexidine Wipes XL with Aloe for Dogs and Cats – Antiseptic and Antifungal Wipes for Skin Infections, Hotspots, Acne Ringworm and More – 70 XL Wipes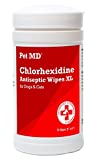 Price: $15.99 ($0.23 / Count) – save $4.00 (20%)!

Brand: Pet MD



Features
EXTRA LARGE WIPES: 5 Inch by 6 Inch Wipes For Easier Handling and More Coverage Per Pad Even In the Hard To Reach Places on your Dog, Cat or Horse.
POWERFUL VETERINARY FORMULA: 2% Chlorhexidine Antiseptic and Antifungal Wipes Work to Eliminate Skin Problems like Yeast, Infections, Ringworm, Acne, Fungus, Cuts, Scrapes and Rashes
NO STING Medicated Wipes: Treat Topical Skin Conditions and Wounds Without adding to Your Pet's Pain or Making them Uncomfortable.
CONVENIENT Wipes: Great for Travel, Keeping in an Emergency Kit and To Keep Your Pet Healthy Between Using a Shampoo or Spray.
Made Right Here in the USA in Federally Regulated Manufacturing Facilities in Small Batches for Quality and Safety.
New from $15.99 ($0.23 / Count) (1 offers)