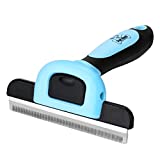 Pet Grooming Brush Effectively Reduces Shedding by Up to 95% Professional Deshedding Tool for Dogs and Cats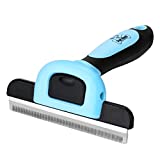 Price: $14.97

Color: Blue
Model: Pet Grooming Brush
Warranty: No
Brand: Pet Neat



Features
Best pet grooming tool! Leave behind the grooming headache, removing up to 95% of dead hair and tangles from your cat and dog easily IN JUST 10 MINUTES! Keep your furniture and floors free of pet hair while SAVING MONEY and TIME on expensive visits to the vet for pet grooming services! Get valuable grooming tips on the 'Four Dog Care' FREE E-book!
A durable shedding tool! This dog and cat comb is MADE TO LAST through long years of effortless pet grooming! With the 100mm STAINLESS STEEL BLADE protected by a cover for your safety and the blade longevity and the STURDY, EASY-GRIP HANDLE, it promise top precision. It is a long-lasting deshedding tool, a MUST-HAVE pet hair remover!
Healthy, shiny pet coat! Rid your four-legged friend of undercoat and loose hair effortlessly, and keep at bay allergies by frequently brushing them! Have your pet thankful for the professional services of a dog/cat deshedding tool and establish strong bonds between you and your four-legged friend!
TA Thoughtful gift to all pet owners! Easy to use and causing not a speck of discomfort, this grooming brush will put a wide smile on the face of the lucky pet owner! It will relieve their dog or cat from shedding, trimming pet grooming time to just 10 minutes. Offer it on all occasions to save them time, money and effort and show off your excellent taste!
100% SATISFACTION: All Pet Neat products are satisfaction for life. Click Add to Cart now!
Used from $9.99 (1 offers)
New from $14.97 (3 offers)