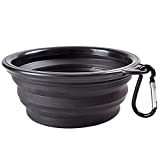 Pet Collapsible Bowl, Collapsible Dog Water Bowls for Cats Dogs, Portable Pet Feeding Watering Dish for Walking Parking Traveling (Small – 12 oz, Black)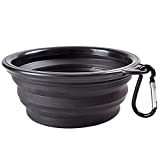 Price: $3.28

Color: Black
Model: Travel Pet Bowl
Warranty: 1Year
Brand: Vabogu



Features
COLLAPSIBLE DESIGN: Convenient collapsible design for saving space, simply stretch and fold away,which are good for traveling,hiking,camping.
PORTABLE & CONVENIENT: Collapsible dog bowl is 5.1 inches wide, 2.1 inches height, each bowl holds up to 12 fluid ounces of water or 1.5 cups of dog food. – 0.5 inches when compact – collapsible dog bowl set great for travel dog bowl, pet travel bowl and cat food bowl – The Bowls include color-matching carabiners clip it or collapse it to your backpack, purse, dog travel crate, dog training leash or collapse flat for your pocket, stroller, glovebox AND MORE! Terrific Pet Supplies for Dogs Water
SIZE: 5.1 X 3.5 X 2.1 inch ( 5.1*3.5*2.1 inch), each bowl holds up to 12 fluid ounces of water or 1.5 cups of pet food. The dog bowls can be collapsible to different sizes, suitable for all small to medium dogs, cats and other animals to store water and food when going outside.
MULTI-FUNCTION: Essential travel items, travel dog bowl designed for travel specially, it can be used to hold water, dog food, snacks and so on. When not in use, the folding bowl can be used as frisbee. You can hang the dog bowl on the bag or traction rope handle when you take the dog out, which will be quite convenient.
EASY TO CLEAN: Dishwasher safe, in order to reduce unnecessary waste, these compact puppy food bowls can be rinsed or wiped clean after each use, and have a great longevity.
New from $3.28 (1 offers)