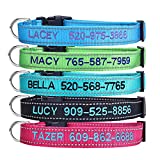 Personalized Dog Collar, Custom Embroidered Pet Name and Phone Number 4 Adjustable Sizes Quick Release Buckle and D-Ring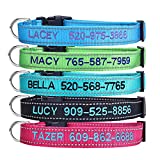 Price: $11.99

Color: Blue, Green, Teal, Black, Pink
Model: P-YLWIDCs
Brand: YDL



Features
Durably made with high quality nylon, non-corrosive D-ring & a secure side-release buckle.Double-sided reflective stitching increases nighttime visibility to keep your dog safe and secure during evening or early morning walks.
Your dog's name and phone number will be stitched into the collar permanently for long lasting identification.When you want to go on a vacation the ID collar is the best choice for your pet.
5 collar colors and 10 embroidery thread color options. For threads it is best to use a contrasting color to the nylon.  If you choose a dark nylon then go with a light colored thread.  If you choose a light colored nylon then go with a dark thread.
4 adjustable collar sizes:X-Small (Adjustable Length 8.5″-12″ ), Small(Adjustable Length 10″-15″ ),Medium(Adjustable Length 12″-19″ ),Large(Adjustable Length 14.5″-23″ )
To order click "Customized Now". Then follow the easy ORDERING INSTRUCTION image on the product page to place an order.Personalized items are not returnable if you text your customized information wrong by mistake.  Be sure to double check size and spellings.
New from $11.99 (1 offers)