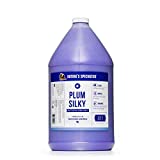 Nature's Specialties Moisturizing Dog Conditioner for Pets, Concentrate 32:1, Made in USA, Plum Silky, 1gal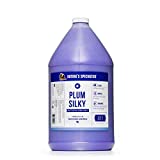 Price: $64.99 ($0.51 / Fl Oz)

Model: PSCONDGAL
Brand: Nature's Specialties



Features
SMOOTHS AND SOFTENS – Pairing perfectly with Nature's Specialties PLUM SILKY shampoo, PLUM SILKY conditioner will enhance and prolong the wonderful plum fragrance groomers have loved for over 20 years.
BENEFITS – Adds Moisture, Removes Static, Revitalizes Coat, Great for Drop Coat Breeds
CONTAINS – A Proprietary Blend of Conditioners, Essential Nutrients, Jojoba Oil, Keratin, Panthenol, Silk Proteins, Amino Acids, Acai Berry, Purified Water, Fragrance, Vitamins A, D, E, pH Balanced
DIRECTIONS FOR USE – May be diluted up to 32 to 1 or used direct.
WHY NATURE'S SPECIALTIES – Our products are recognized in the Grooming industry as premium products for dogs and cats and are used by many competitive groomers and pet loving consumers.
New from $64.99 ($0.51 / Fl Oz) (2 offers)