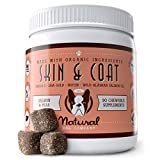 Natural Dog Company Skin & Coat Supplement, Omega 3 & 6 from Wild Alaksan Salmon Oil, Promotes Healthy Skin and Shiny Coat, Salmon & Peas Flavor, 90 Chews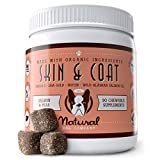 Price: $24.95 ($0.28 / Count)

Model: ND-SACS-90
Brand: Natural Dog Company



Features
EFFECTIVE DOG SKIN & COAT SUPPLEMENT: Includes (1) 90 Count of Natural Dog Company Skin & Coat Supplement Chews that are ideal for dogs of any age and breeds and will support your dog's health from the inside out.
PROMOTES HEALTHY SKIN & SHINY COAT: Our wild-caught Alaskan Salmon Oil softens skin and fur while reducing skin allergies, shedding, and treating hot spots. Biotin, Vitamin E, and Vitamin C help with dry, itchy skin and promote hair growth.
NUTRIENT DENSE FORMULA: Our carefully crafted formula of fatty acids including Omega-3s, EPA, DHA and Omega-6s, work together to balance your dog's immune system and cognitive development, and help with kidney function, lymphoma, arthritis, and more.
ALL NATURAL & HIGH QUALITY INGREDIENTS: Our fish oil dog supplements are made with premium ingredients and are produced in GMP-certified, FDA-registered facilities. Join us in giving your furry companion the healthiest, happiest life possible!
DELICIOUS, DOG APPROVED FLAVOR: Treat your furry friend to healthy skin and a luscious coat with flavorful Salmon & Pea chews that are soft, tasty, and easy to digest. Intended for daily use – serving size is based on your dog's weight.
New from $24.95 ($0.28 / Count) (1 offers)