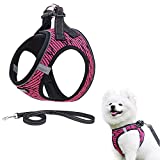 Mesh Dog Harness and Leash,Reflective and Breathable Pet Harness,Adjustable Soft Padded Vest Harness for Puppy Small Dogs & Cats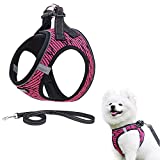 Price: $6.00 ($6.00 / Count) – save $5.99 (50%)!

Color: Pink
Model: 207-BK-M
Warranty: 31 day manufacturer
Brand: Heytronda



Features
【Suitable for dogs and cats】The harness has 5 sizes, chest from 11.4-20.4 inch, 4.92 FT leash. Please MEASURE your pet and refer to our sizing chart for the best fit before ordering
【Breathable and Durable Material】The dog vest is made of breathable mesh to ensure the comfort of the dog while wearing it, and it is not stuffy. The towing rope is made of nylon, which is very durable, and don't worry dog chew it.
【NO PULL, NO CHOKE】The puppy harness and Leash Set has two D-rings, easy to fix the dog harness, not easy to swing, prevent suffocation and pull, ensure the comfort of the dog during wearing and prevent dogs from being lost.
【Safety Reflective Design】The double-sided webbing of the dog harness leash set adopts a reflective design to enhance your pet's visibility for that early morning and late evening strolls, which is beneficial to protect the safety of the dog at night.
【Convenient & Easily use】Easy to open and close the buckle, release and lock the dog at any time, to ensure the dog's freedom and safety.
New from $6.00 ($6.00 / Count) (1 offers)