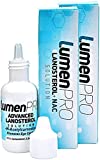 LumenPro Pet Eye Drops – Promotes Vision Clarity in Animals with Cataracts (Twin Pack, 2x10ml) – Advanced Vision Support with Lanosterol & Antioxidants – Cataract Eye Drops for Dogs, Cats, Horses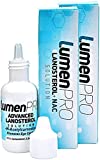 Price: $132.99 ($198.49 / Fl Oz)

Color: clear
Model: IWM038346
Warranty: We partner with retailers regarding all returns in accordance with each retailer's return policy. If you wish to return your product(s), please bring the remaining product(s) along with your receipt to the retailer you purchased it from for return consideration.
Brand: LumenPro



Features
UNIQUE DUAL-ACTION SUPPORT: LumenPro eye drops provide dual-action support for pets suffering from cataracts. It combines the cataract-fighting power of Lanosterol and antioxidants. LumenPro's eye drops for dogs are significantly more effective on cataracts than any other pet eye drops brand on the market. LumenPro is best known as dog eye drops but they are just as effective as cat eye drops or horse eye drops, also effective on rabbits, guinea pigs, birds, and many other large animals.
PATENT-PENDING FORMULA: LumenPro is the only dog eye cataract drops containing functional lanosterol, a molecule scientifically proven to dissolve the glycoproteins that cause cataracts in animal lenses. The innovative formula delivers its active ingredients by maximizing its duration on the surface of the eye, providing greater penetration to the lens.
SAFETY: LumenPro is formulated and tested to be safe. Its neutral pH is gentle to the eye, and will not sting when applied. LumenPro contains no phosphates and is BPA-free. LumenPro's active ingredients, Lanosterol and antioxidants, are not pharmaceuticals. Both are naturally produced in the body. When the body produces less of these substances, cataracts tend to develop. LumenPro meets all regulatory requirements of the United States FDA.
EFFECTIVENESS: The ingredients in LumenPro are most effective in reversing newly-formed, or mild-to-moderate cataracts. It may also be used to prevent cataracts from forming in breeds which are prone to developing them. Lanosterol and antioxidant therapy is less effective on late-stage or severe cataracts. Apply 1 drop to each eye, twice daily. The duration of treatment will vary by individual animal. However, a three-month course of treatment is typical with our customers.
TRUSTED & RELIABLE: We value your trust in us to provide the safest available eye drops for cats, dogs, horses, and more. We have 100% confidence in the quality of our products and continuously strive to deliver the best customer experience. LumenPro's team consistently provides excellent service and the highest quality dog cataract eye drops available.
New from $132.99 ($198.49 / Fl Oz) (1 offers)