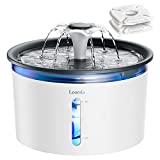 Loomla Cat Water Fountain, 85oz/2.5L Pet Water Fountain Indoor, Automatic Dog Water Dispenser with Switchable LED Lights, 2 Replacement Filters for Cats, Dogs, Pets (Dark Gray)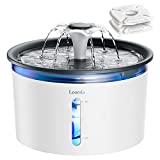 Price: $24.62 – save $3.50 (12%)!

Color: Dark Gray
Model: VC1402
Warranty: 2 Years Warranty
Brand: Loomla



Features
Premium Quality – The dog and cat water fountain is made out of premium BPA-free plastic, which is 100% safe material. Cat and dog water bowl dispenser will withstand everyday use for years without any scratches or corrosion. High-quality construction means that this pet water fountain won't break after a while, and will become an integral part of your home. You and your pet will love our cat and dog water fountain.
High Capacity – Staying hydrated can be a challenge for pets, especially during the summer months. The Loomla stainless steel cat water fountain is your answer to a long-lasting water supply for small pets in your home. The dog and cat water fountain holds 85 ounces, it's enough water for a small animal for almost a week! The water level window shows you how much is left in the cat and dog water bowl dispenser, so your pet can stay hydrated and not get thirsty.
Whisper-quiet – This water fountain for cats inside has a water pump that is so quiet, you'd never know it's there! The low noise water dispenser for cats and dogs is a great way to help your pets stay calm and hydrated at night. Many animals are frightened by loud noises, so the quiet design of this dog and cat fountain water bowl makes it more enticing for animal owners who want their pets healthy and content.
Entertainment For Your Pet – Our cat and dog water fountain was designed with your pets in mind and provides an easy way for them to quench their thirst while having fun at the same time! A pet water fountain can be just the cool thing you need in order to keep your little buddy hydrated and entertained. Pet supplies water fountains are an amusing way of making water enjoyable for animals.
Always Clean & Fresh Water – Don't let your pets go thirsty! Our pet fountain is a great way to keep your furry friends hydrated. The dog and cat water dispenser ensures that no matter how busy you might be, they'll always have clean and fresh water to drink. The cat and dog water dispenser filter uses multiple purification systems, it purifies the water using carbon non-woven fabric and ion exchange resin. 2 exchange filters are included with the dog and cat supplies water fountain.
New from $24.62 (2 offers)
Used from $22.65 (7 offers)